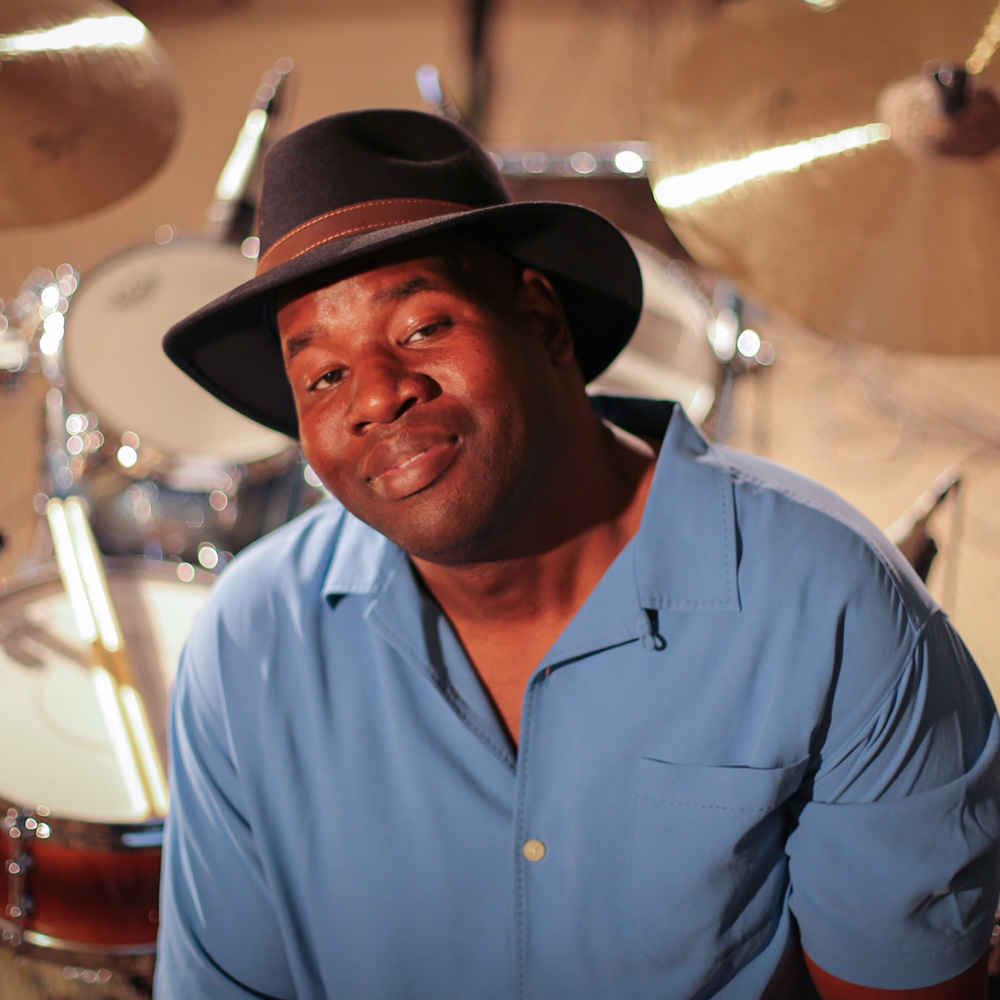 John Blackwell Sig. kit - North American Maple Retro Yellow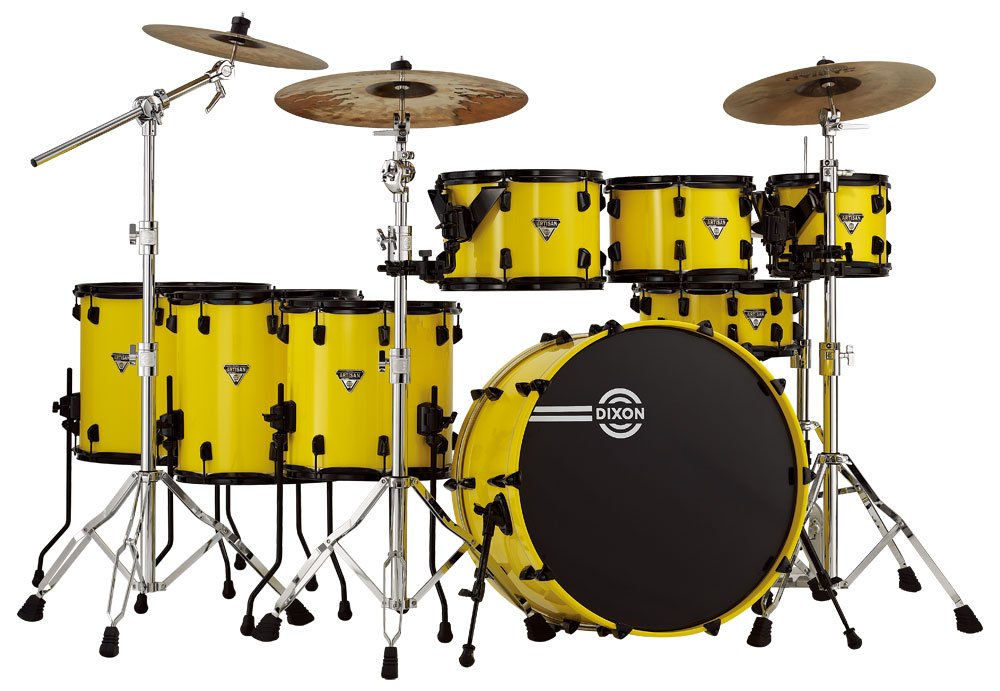 John Blackwell Sig. kit - North American Maple / Cordia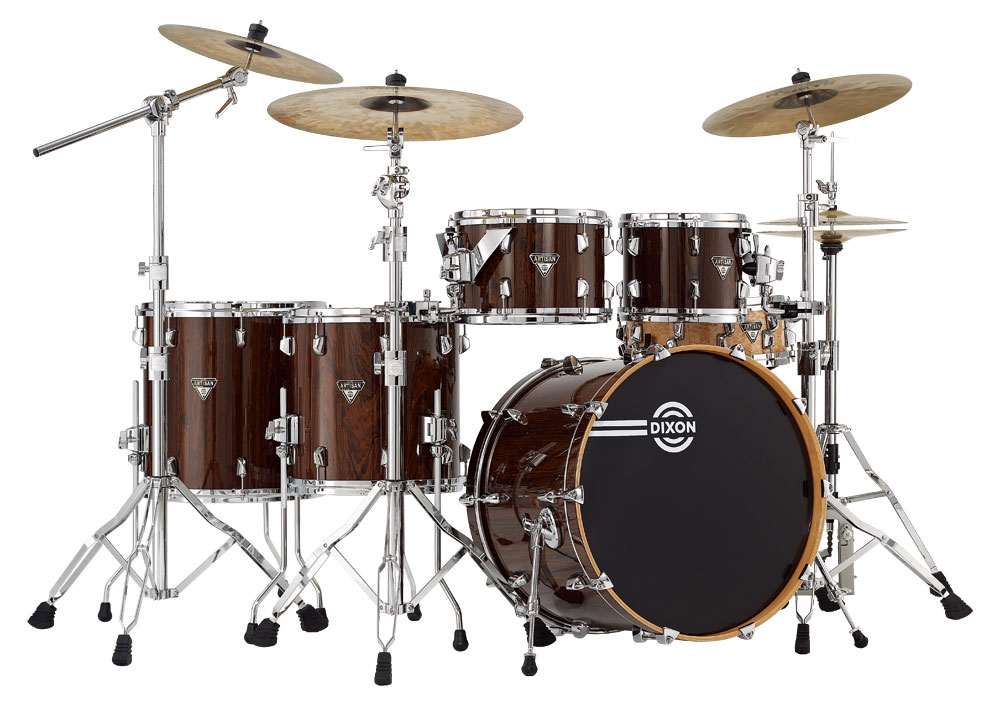 Prince
Country / Region : USA
From Dixon brand manager – Jim Uding
When we signed John Blackwell back in April, he had already been scheduled to appear as a featured clinician at the Chicago Drum Show in May. And even though we had his Artisan drum sets on order, we needed to get a clinic kit in his configuration ready and get him comfortable with it prior to the Chicago show.
So what I decided to do was bring him to St. Louis, where Dixon distribution is headquartered in the US, and work with the kit for a day. We also took this opportunity to shoot promo photos and video for our social media, and we decided to do this at Webster University, a major, centrally located university with a great music and percussion program.
So John flies in on the Wednesday before the Chicago show weekend and we spend the whole day from about 9:00 am to 11:00 pm…we start out by working with the drum kit, tuning it up. I'd outfitted it in advance with Remo heads which they provided, and the kit was one that I had on hand in what I call our "artist pool," with the addition of an 18" floor tom which I had shipped in from our backline kit in LA, because John will sometimes use three floor toms live, but one of many interesting things I learned about about John is that he will choose his final setup the day of the show as late as the sound check, based on his creative mood or feel for the gig. For our two dates, John chose to play 10" and 12" racks, 14" and 16" floor toms. Another thing I found interesting was John's drum head configuration – he uses coated Vintage Emperors on his rack toms, batter side (10", 12", 13"), then on his floor toms he uses the coated Vintage Emperor on the 14", and then Ebony Emperor on his 16" and 18" floor toms. He uses the new black dot Powerstroke 3 batter on the bass drum, and then the Powerstroke 77 coated on his snare drums.
The drum kit that I provided is Artisan, which is our top of the line and what all our artists play. But in Artisan we have three different shell types starting with Artisan Maple, a 7-ply all maple shell, and that shell was basically the reason why Gregg Bissonette came over to Dixon in 2014. But Gregg wanted a much thinner shell, so the factory came up with a thinner 4mm option with no reinforcement hoops called Artisan Ultra Maple.
The kit that John Blackwell was using from my artist pool was our third option, which is called Maple Bubinga. So that shell is a hybrid maple and bubinga shell, the inner plies are bubinga. Bubinga has a really cool low fundamental characteristic, but the great thing about bubinga is that it brings the pitch down on the drum, but it doesn't make it muddy. They still are very articulate. So really maple and bubinga combined is just the best of both worlds. So I was excited to have him play those drums, because right now most of our artists are playing purely maple shells. So that combined with John's interesting head combination made us really excited to get him behind the drums and see what would happen.
For the snare drums, John was immediately drawn to our Artisan Chris Brady series snares. Yes, THE Chris Brady, and Chris, when Brady drums was operational, was a customer of Dixon's parent company who provided him with the hardware for his drums. From that relationship, Chris agreed to sell Dixon Australian rose gum in plies and then allowed us to build a Chris Brady series using that wood, 9 ply, and in three sizes and three slightly different color options per drum. In other words, each size has its own unique color treatment. These drums are amazing. It's one of my personal favorites in our snare drum offering. John took to the 13" right away and the PowerStroke77 made it his.
We spent the day at Webster University tweaking the drums, and we got everything adjusted, we got all the hardware locked in with the memory locks. John was impressed all around, they tuned up quick, they sounded great. The stardust blue sparkle finish, a lacquer finish which has been a real standout for Dixon, just looked great, especially once the lights went on – the sparkle just popped, the die-cast hoops, and our K series hardware, our premium line…it just all came together.
We got John comfortable with the drums and broke for lunch and then came back to start the video, interviews, and photographs. John was anxious to try our Precision Coil pedal, which will be available in stores summer 2016. At the time, all I had to offer him was our prototypes from the Winter NAMM show. My factory colleague was a little nervous about turning him loose on the prototype, just because it wasn't perfect, and my friends at Dixon just love to have it perfect especially before you put it in front of an artist. But I said, "John, you want to play this pedal, let's give it a real test."
So we got the precision coil double pedal hooked up and worked with the adjustments a little bit. As you know, John Blackwell is just infamous for his single foot and single pedal technique sounding like he is playing double pedal. Even though he uses a double pedal, he only uses that on certain fills and endings of songs – you've got to see it to believe it.
Watching John Blackwell really use the Precision Coil pedal was another exciting part of the day. It suits his technique because whether it is precision coil and compression spring, or it's a traditional rocking spring pedal, he plays them very tight and brings the beater angle back. With compression spring pedals, their characteristic is to be a tighter feel, so John took to it fast.
For the clinic John preferred to play with live musicians. Webster has a great jazz program, so they were able to provide two bass players, who alternated, a guitar player, keyboard player, and percussionist. John sent tracks to three tunes (and not that easy) about ten days before, and these guys got together for one rehearsal prior to the rehearsal with John and locked in the tunes. They had an hour to rehearse and it was fun to watch John take these kids under his wing and be patient; even though they were nailing it, they would have trouble with a spot and John would just say, "Okay guys, let's just take a minute, take a deep breath and work it out." He would give them a tip here, a tip there, and before you know it, those tunes were coming together and the hour passed by quick.
But one of the really cool things was, just before the master class between the rehearsal and the master class, John got to sit down and talk casually with the band. And again, these are all aspiring musicians, dedicated, wide-eyed, and soaking in everything John had to say. John was so kind, he was so easy to talk to, he gave those guys a semester's worth of real life, real gig information in probably 30 minutes.
It was fun to watch because there's something about musicians getting together and trading those stories, and no matter what level you are, there are similar challenges, similar personalities – it's all the same thing. Different people go through that period at different times, and when you can give back and sit there and patiently share the ins and outs to a bunch of students…it's beyond valuable. As you know, live music is changing. It's just not as prevalent, and face-to-face access to people like John Blackwell to the average student is not as available. It was golden. I just can't say enough about John's genuineness. That was worth the whole day, to tell you the truth.
Then came the master class. John likes to play and then open it up for question and answer. The questions were dynamite. The master class gave him the opportunity to go deep on many topics. One of the things he talked about was, How did you get the gig with Prince? He laid it out in a timeline, and it wasn't something that he just stumbled into. It's something that happened over a long period of time, that was earned and literally started with his father's inspiration. His father was a drummer and gave him every opportunity as a kid to learn and be inspired and exposed to great drummers and music. It carried on to Berkeley College of music, where that led to an early exit to play with Cameo.
When he was concerned about leaving school early, he reached out to his father and his father said, "Well that's why you went to Berkeley, to get this gig, so go." That led to Patti LaBelle, Patti LaBelle led to Prince coming to the shows over an extended period of time and making a little contact at a time, then John received an invitation to jam with Prince. That all led to 15 quality years with Prince and John Blackwell delivering a certain funk to Prince's backbeat he could not resist and became a big part of Prince's signature sound – John was basically responsible for that. Hearing a success story that didn't happen overnight is truly inspirational.
So with Prince gone, all of the musicians that make up all the different evolutions of Prince's band are carrying that torch and telling the story. In John's case, being the drummer for a big part of Prince's career, being the force behind those great tunes and that artistry has become his legacy, he's got the stories, he's got the experience of playing and creating with a true genius.
After the master class came the clinic, and more playing. The band knocked it out of the park, just endless great tunes, then came more heartfelt, genuine stories, stuff that whether you were a drummer in attendance or any musician in attendance you could run home and apply to your instrument or gig or other musicians. It wasn't just technique, it was about how to get the gig, keep the gig, find the gig, which is getting harder and harder to do.
A great evening overall, it ended two hours later with no one wanting to go home but we just had to call it a night because we were going to load up the drums and head to Chicago the next morning. The clinic ended with a standing ovation, which is the ultimate compliment to an artist, so what a night, what an artist. That just trickles down to the brand; the night was also about Dixon drums, but the event becomes about the artist and the artist becomes the message. That's why Dixon wanted John Blackwell behind our drums.
What a great start with John and ultimately the idea of bringing him to St. Louis prior to Chicago was the perfect choice. Not only did he familiarize himself with the drums, the drums are ready to go, we all got to know each other better, and that translated into a great weekend and another great clinic at the Chicago Drum Show, where John was a featured clinician.
The response at our booth was great, and John's master class was sold out. It was an hour long and he got a little more in-depth on the Prince experience – how he got the gig, etc. – and people got to see him playing the Precision Coil pedal.
The next day before flying out, John asked for a late flight because he had connected with someone with a school in Chicago. He had an appointment to visit with a bunch of kids at the school in the music program before he left. This is classic John Blackwell – a truly great guy, always willing to share, always thinking about others. He brings so much to the worldwide community of drummers. What an honor to have him at Dixon.